Quaker Hill Farm
Nubian Dairy Goats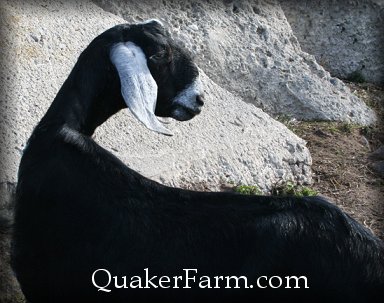 Does Bucks Juniors Kids For Sale Reference
New Beginings
In 2010, after a complete liquidation, we reestablished our dairy goat herd and came full circle back to our beginnings. When we began raising dairy goats in the 1980's, our herd started with Nubian goats from Brandywine Farm and Lotus Lady lines. We broadened out from there to include Oberhasli and finally Saanen dairy goats. Now, the new foundation of our small, purebred Nubian dairy goat herd features bloodlines from some of the most excellent dairy herds in the nation including; Ain-Ash-Shams, Saada and Longman. We are grateful for the rare opportunity to acquire some of the nicest Nubian does we have ever seen, it has been a rare and wonderful experience for us. Being able to actually own goats from these bloodlines is simply amazing.

Our small herd of purebred Nubian dairy goats are confirmationally sound, have exceptional udders and are from strong milking lines. Our dairy goats are bred for quality milk taste, high butterfat content and warm, friendly personalities.

Quaker Farm Welcomes Nubian Buck, Saada King Gundobald
DOB: 3-23-09 LA 1-03 VG 85 V+V
SIRE: *B Saada Jalal Hilkiah (Dam SGCH Saada Lady Jamilla 6*M GCH LA 5-04 E93 6*M)
DAM: SG Saada Hellatious Clothilde LA 1-05 VG86 VV++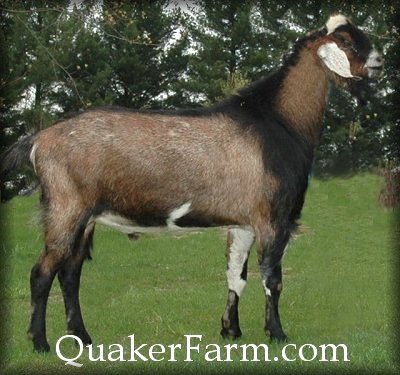 "Gundobald is linebred on Saada M'Lord Tree Beard, a son of the late SGCH Saada Belfys M'Lady Vampress. His dam Clothilde is a very long, tall and powerful doe, with a smooth fore udder. The two times she was shown, she placed first. She received her SG designation as a yearling milker." quote from Ain-Ash-Shams site.
click to enlarge Gundobald's image

Again, our thanks to Susanne of Ain-Ash-Shams for this great opportunity and the use of the photo of "Gundi" and Pearl! We will be breeding all of our does to this outstanding buck in the fall and look forward to outstanding kids next spring!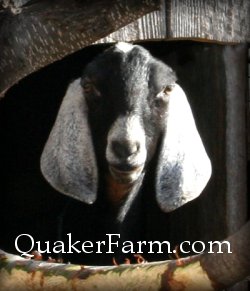 Nubian Dairy Goats for Sale
When we have nubian dairy goats for sale, they will be listed on the For Sale page. Because the size of our herd is small, we will only have a few Nubians for sale each year. We would rather concentrate on having a few goats of outstanding quality, then a large herd. We are planning that our numbers will always be small, hopefully under 10. However, our Ain-Ash-Shams KED Win's Leila kidded in the spring of 2011 with triplets, so sticking to the number 10 is already presenting a challenge!



Learn About Dairy Goats on a Homestead