Basics of Beekeeping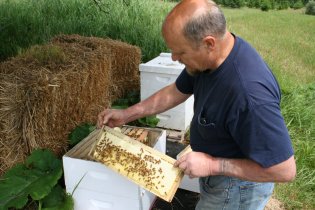 A hands-on workshop about keeping bees and harvesting honey
This class may only be taken by those who have completed the Introduction to Beekeeping.
During this is a hands-on workshop, you will teach you about beehive management, honey production and extraction, beeswax and bee pollen.

You will participate in hands-on demonstrations for hive maintance, requeening, swarm control, honey harvesting, plus disease management and pest control.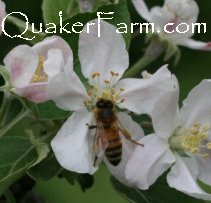 This class involves outdoor activities. Please wear long sleeves and pants and bring a wide-brimmed hat.

Be sure to bring appropriate clothing for cold or rainy weather. No sandals or shorts allowed.

Prerequisite: Introduction to Beekeeping
Class Size: 10
Cost: $75

Please bring a sack lunch.

Our classes are fun and informative and samples of honey treats will be served - including ice cream!


---



Upcoming Basics of Beekeeping Classes



Saturday, June 25th
Time: 9:30 - 3:30
Cost: 75.00 per person
Class is Full

To reserve your space, email: quakerfarm@hotmail.com or call 989-736-7627

Payment may be made by cash or check.




"The Lord bless thee and keep thee...."
- Numbers 6:24